Restructuring &
Insolvency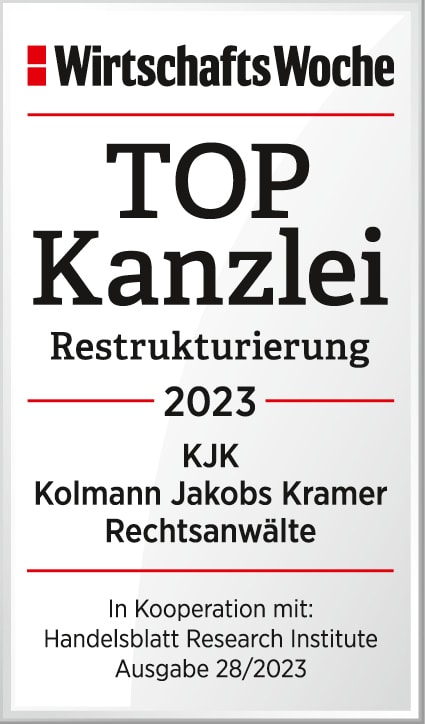 Crisis prevention, Restructuring & Insolvency
We are accomplished and experienced advisers and representatives to companies in economic distress as well as to their customers, suppliers and investors.
Some of us have also learned the profession of the insolvency administrator from scratch. We are therefore in a position to take any perspective on all insolvency law issues.
Our clients receive professional excellence, hands-on mentality, pragmatism and a keen sense for opportunities and risks.
Regarding the latter, we benefit from our many years of experience in defending and asserting insolvency-specific claims as well as from our expertise in corporate law.
Services
Crisis prevention and anticipation of the crisis
Risk analysis: Identification and avoidance of liability risks for executive bodies and shareholders
Restructuring strategies: Development of scenarios for the purpose of preservation or safe liquidation of a company
Strategic advice on possible out-of-court and in-court restructuring measures
Ringfencing and hedging of healthy parts of companies
Carve-outs and divestments of parts of companies in crisis
Corporate restructuring (termination of inter-company agreements (profit and loss transfer agreements), parent guarantuees, transformation measures)
Questions regarding shareholder financing
Assessment of grounds for insolvency
Crisis defense and restructuring
Advising managing directors, board members, CROs, supervisory boards, advisory boards, shareholders and investors in out-of-court and in-court restructuring proceedings
Advice on restructuring and self-administration proceedings
Distressed M&A (seller and buyer side)
Trustee models for restructurings and divestments
Drafting of restructuring and insolvency plans
Insolvency
Assuming responsibility (CRO or general representative) for the purpose of carrying out judicial restructuring proceedings (self-administration and protective shield proceedings)
Defense against and enforcement of insolvency-related claims (claw back actions, managing director liability)
Enforcement of creditors' claims
Enforcement of shareholder's claims
International Insolvency Law
References